Decking Oil
Browse our range of high quality Decking Oils, available for next day delivery. We have many Decking oil colours and clear from brands such as Ronseal, Liberon and Osmo.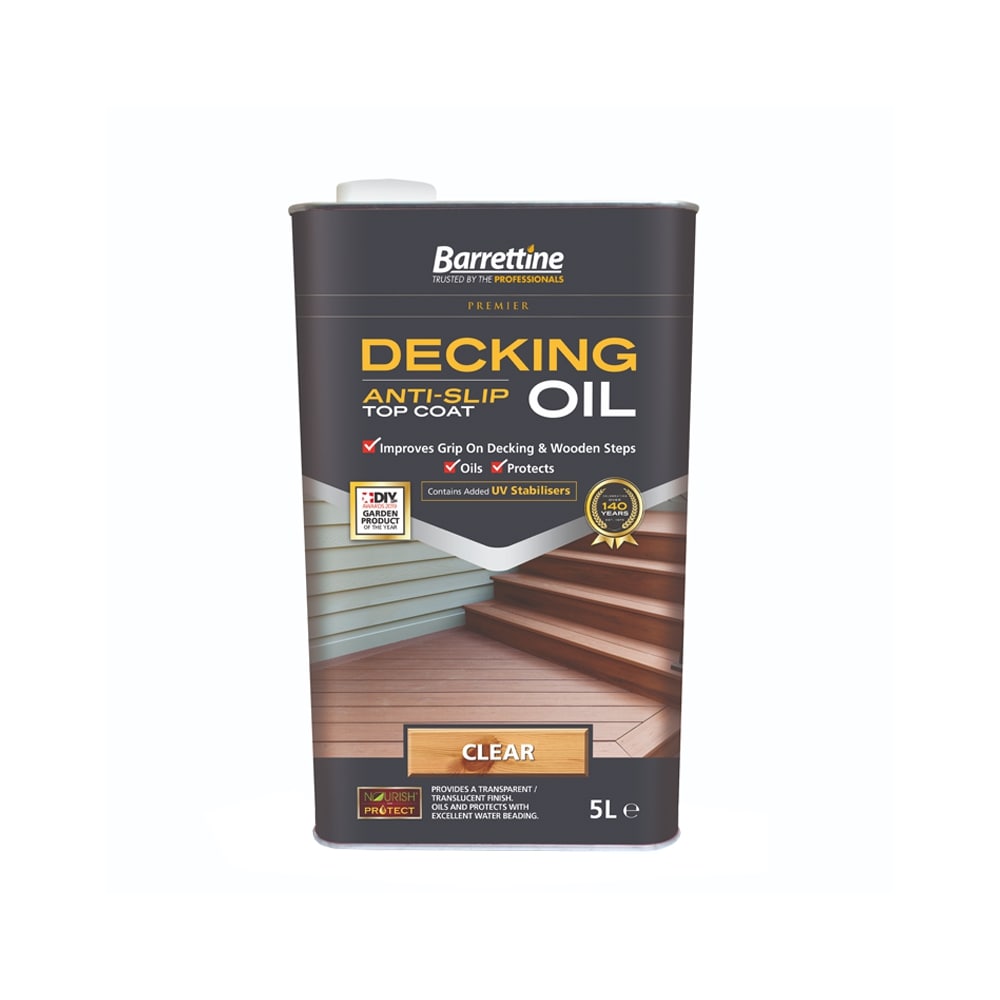 Decking Oils are the hardest wearing exterior oils available. Offering UV protection and high resistance to foot traffic and weather, these oils are perfect for a magnitude of exterior smooth cut wood applications, such as decking, steps, window frames and garden benches. 
There are water based and oil based decking oils. Water based decking oils, such as Cuprinol UV Guard Decking Oil or Ronseal Ultimate Protection Decking Oil are quicker drying and lower V.O.C than oil based oils. Water Based oils do still contain certain oils, hence the name, but can be washed with water before cured.
Oil Based Decking Oils, such as Liberon Decking Oil, Osmo Decking Oil and Barrettine Decking Oil absorb deeper into the wood grain and will better protect the wood from warping, splitting and cracking.
Premium decking oils, such as Osmo Decking Oil, are better suited to hardwoods such as teak, European Oak, Cedar or Iroko. The Oil is slightly thinner than others, allowing it to get deeper into the dense grain. 
Like most projects, the quality of the job depends on the preparation. From choosing the desired colour to cleaning the deck effectively to ensure the new oil can absorb. We have provided real sample colour swatches on freshly sanded pine and oak to allow our customers to make an informed decision on which colour is best for them. 
There are many variables that will affect the tone and finish of the decking oil. 
the type of wood being applied to: Hard woods (such as cedar) will give a lighter shade with the same oil than a soft wood (such as pine). The more the oil can saturate the wood grain, the darker the appearance of the finish.
The age of the wood. Newer wood will have a higher moisture content and be tighter grained, allowing less oil to be absorbed than older wood which will look darker with the same oil. 
Previous finishes. If there has been a previous finish on the wood, it needs to be removed as much as possible. The most thorough way is to sand the deck and then clean but quite often, if the previous finish is relatively old, use a decking stripper to remove the paint and clean with a decking cleaner. If the previous finish hasn't been properly removed, the oil won't absorb and hence won't protect the wood.
The moisture content of the wood. At the point of oiling, the wood needs to be as dry as possible. If the decking is wet the oil won't absorb and you'll get a patchy finish. 
As with all wood finishes, doing a test patch on an off cut or inconspicuous place prior to attempting the full project is very important. There are so many variables that can change the appearance of the finish. The cost of a can of decking oil is less than the cost of removing and refinishing your decking. If you're still unsure of which oil to buy, please get in touch with us by calling 01285 831 688 or email us to enquiries@restorate.co.uk