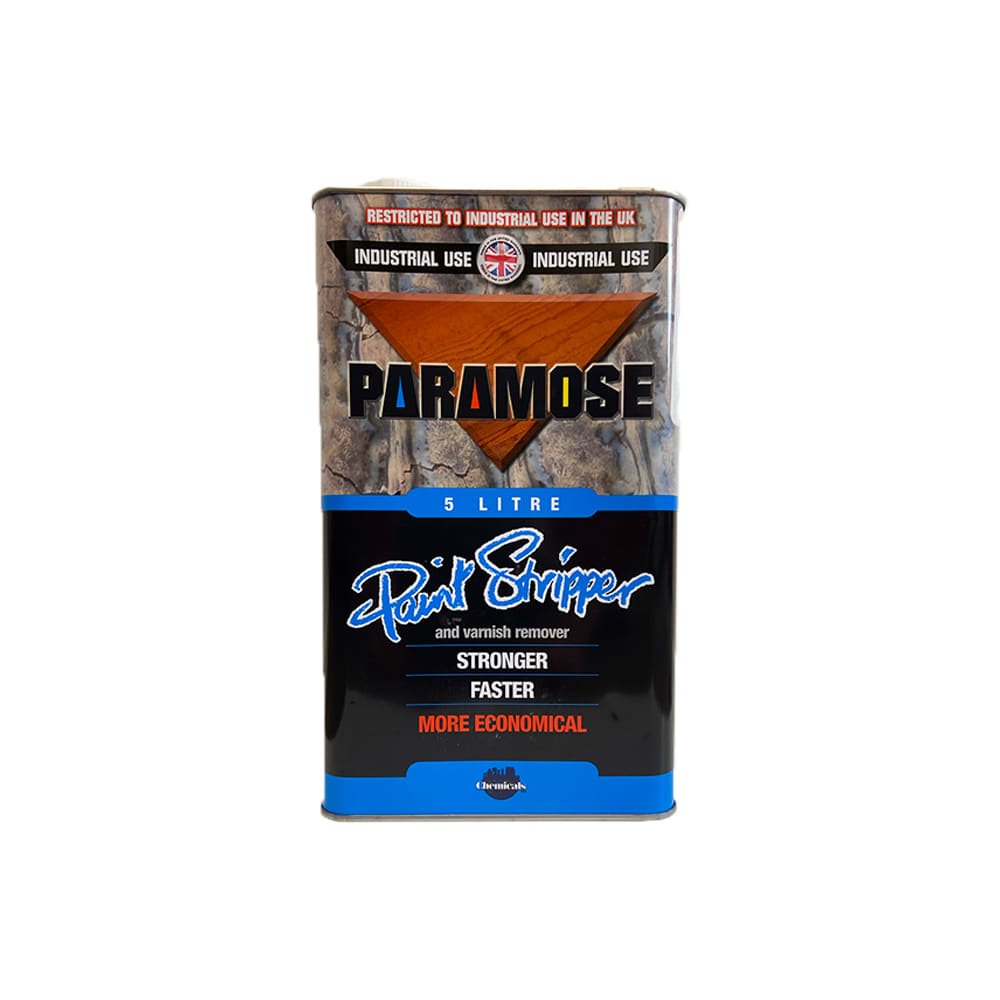 Paramose DCM Paint Stripper 5L (Professional Use Only)
Same Day Despatch until 5pm (Monday to Friday)
Next Working Day Delivery
Weekday Specialist Support
Free Delivery over £70
Out of Stock
Only
78
Available, remaining will be back-ordered. Please contact us if part dispatch is required.

THIS PAINT STRIPPER IS FOR PROFESSIONAL USE ONLY. A TWO PART COURSE IS REQUIRED IF USED IN A DOMESTIC ENVIRONMENT, AT A WORK SITE OR OUTDOORS, REGARDLESS OF EXPERIENCE LEVEL. THIS IS REQUIRED BY LAW AND HSE; NON-COMPLIANCE COULD RESULT IN A PRISON SENTENCE. SEE LINKS BELOW.
If you're not required to take the course, because you are a professional user using the paint stripper in an industrial premises with an extraction type ventilation system, please complete the forms below, with photos of the environment you intend to use it in, and send to us via email before purchase (if you haven't already).
If you are not a professional user please consider Barrettine Paint Panther, which is a good quality unrestricted product.
*Order before 2pm (weekdays only) to guarantee same day despatch. This product has to be transported via special carrier due to its nature.
To comply with the regulations, all customers are required to complete and return the documents attached at the bottom of the page. Please return both documents by email along with a copy of your letter headed paper.

The paint stripper will not be despatched without these documents being completed or on record.
Paramose Paint & Varnish Remover is a traditional Dichloromethane (DCM) based Paint and Varnish Remover for for Professional use only - within Industrial Installations (proof will be required).
It is available in two versions, thin - spirit washable and thick - water washable.
Both Spirit and Water Washable Paramose Paint and Varnish Removers are traditional Dichloromethane based paint strippers that are designed for the removal of multiple coats of paint, varnish and 2 pack lacquers.  The thin consistency spirit washable version is suitable for brushing into fine detail or for dipping the item to be stripped.  The thicker consistency water washable variant clings to the surface, so is better for use on vertical surfaces as it won't run off.
Paramose is a low evaporation formula ensuring that it penetrates into the substrate. It is suitable for use on wood, masonry and metal.
Apply evenly by brush and after around 20 minutes remove the softened paint with a scraper or coarse steel wool (grade 2,3 or 4).  Repeat the process if any paint remains on the surface.  Once the surface is free of the old finish, wash down with water or methylated spirit.
If you wish to use this paint stripper in a domestic environment, on site, outdoors or in a workshop without extraction ventilation, regardless of experience level, please follow the links below to complete both parts of the HSE prescribed DCM course. A copy of the certificate along with the completed documents at the bottom of this page is required to be sent to enquiries@restorate.co.uk before we can despatch the Paramose Paint Stripper. These have to be completed by law and non-compliance can result in a prison sentence. Part one is required to be completed before applying for part two.
Part one can be taken online at Safety Boss Consultancy and Training
Part two, the HSE competence assessment, can be booked through Strippers Paint Removers. Book by emailing dcm@stripperspaintremovers.com
HSE Requirements For Use In Industrial Premises
Delivery Policy
Get your order delivered by your choice of delivery service.
UK Mainland Deliveries (excluding Scottish Highlands, Islands and Ireland)
Provider

Service

Charge

Royal Mail

(Up to 2kg)

2nd Class (2-3 Business Days)

£2.95, free for orders over £70

Royal Mail

(Up to 2kg)

1st Class (1-2 Business Days)

£3.75, free for orders over £70

Parcelforce

Next Business Day (Mon-Fri)

£4.95, free for orders over £70

Parcelforce

AM Next Day (Mon-Fri)

£9.95

DPD

Next Business Day (Mon-Fri)

£6.95, free for orders over £70

DPD

AM Next Day (Mon-Fri)

£9.95

DPD

Saturday Delivery

£9.95
Scottish Highlands or Islands, Isle of White
Provider

Service

Charges

Royal Mail

(Up to 2kg)

2nd Class (2-3 Business Days)

£2.95, free for orders over £70

Royal Mail

(Up to 2kg)

1st Class (1-2 Business Days)

£3.75,free for orders over £70

Parcelforce

2 Business Day Delivery

£14.95

DPD

2 Business Day Delivery

£14.95
Northern Ireland, Republic of Ireland, Isle of Mann, Channel Islands
Unfortunately we aren't able to send parcels to these addresses at present but we are working on it.
Returns Policy
If you have mis-ordered, don't require the item or have been sent an item not ordered, please notify us within 30 days of receipt and we will accept the return.
We have a 30-day return policy, which means you have 30 days after receiving your item to request a return.

To be eligible for a return, your item must be in the same condition that you received it, unmanaged and unused, and in its original packaging. You'll also need the receipt or proof of purchase or request a returns reference to enclose in the package.

To start a return, you can contact us at customer.service@restorate.co.uk. We will talk to you about the nature of your return. If we have sent an item that isn't on your order, or is exceptional circumstances, we will organise a collection.
If you, the customer, have mistakenly ordered an item, given incorrect delivery details, or no longer wish the item, it is your responsibility and your liability to return the item in re-saleable condition in order to receive a refund for the value that the item was purchased for.

You can contact us for any return question at customer.service@restorate.co.uk.